Get a taste of our 3 authentic tomato sauce flavors.
Classic Marinara that no pantry should be without. Fresh Onions, fresh peeled garlic, and extra virgin cold pressed certified E.V.O.O.  Many have called it the best they have ever tasted.
Vine Tomato & Fresh Basil is our fan favourite, this Classic Italian sauce is made with Certified cold pressed Extra Virgin Olive oil, hand selected Tomatoes, and aromatic Basil leaves individually picked by hand in our own kitchen.
Slow Roasted Whole Garlic is bursting full of whole sweet Garlic flavour, each and every clove is hand selected in house then slowly cooked to maximize a rich mellow garlic taste that is unmistakable.
Customer Reviews
Write a Review
Ask a Question
03/23/2021
Alphia P.

United States
I recommend this product
Best Red Pasta Sauce Ever (seriously)
Without a doubt, this is the best red sauce. The ingredients are obviously high-quality and made with care. And bottom line, it tastes amazing. It is better than the sauce in any restaurant I have been to (and we eat out a lot...we're James Beard restaurant followers). I have even started giving it as gifts to pasta-loving friends and family. If I had one suggestion, and it's not even about the sauce because that is perfect as is. It is in the packaging. Obviously a lot of protection is needed to get the glass jars delivered safely, but is there an eco-friendly packaging alternative? So much styrofoam to throw away.
03/20/2021
Ed H.

Canada
I recommend this product
Totally Amazing!!
This is the ONLY sauce our family will eat from now on. It had 5+ star reviews from two adults and three very picky children! It's so fresh and absolutely delicious. We won't got back to "regular sauce" after having Marinellis. It is quite simply the absolutely best sauce we've ever had. A new family tradition is born.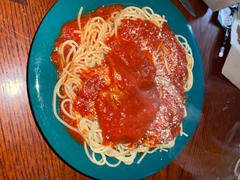 03/19/2021
Gary V.

United States
I recommend this product
Fantastic Gravy/Sauce
The Marinara Gravy/Sauce is fantastic. I recommend it to everyone. Fabulous and extremely delicious. Don't hesitate. Order yours now!!!
02/25/2021
Linda A.

United States
I recommend this product
Not for Me
The item is ok but in my opinion has a metallic taste. I thought the sauce was sweet as well. I will not be ordering more.
02/22/2021
scott d.

United States
I recommend this product
Sauce
Very good sauce love it ,have tried others with a not so good experience.this was first time will order again.